Webinars
Looking for expertise and information to grow as a leader and tackle your big challenges?
School Growth Webinars feature unique interviews and training on current issues facing education leaders.
---
Special Offer
Good News: We've captured the valuable professional development that School Growth presented at various school conferences in a set of videos that you may conveniently use with your team. Get ALL FIVE for a special offer price of buy 2 get 3 free--that's 5 professional development titles to grow your school!

---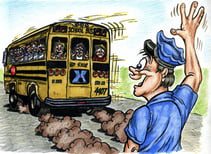 3 Secrets to Survive & Thrive
During a Leadership Tansition
Regardless of the cause, a change in leadership increases fear and uncertainty among the faculty and throughout the school community. People at every level become anxious to know why the change is taking place, how it will impact them, and what they can expect in the future. For the best results, the board and administration set the tone during a transition to inspire confidence in the institutional direction and plans for continuity. But How?? That's what we'll share during this 3-part series, giving you specific expert guidance on how to survive the risky pitfalls and thrive with momentum during a leadership change.
---

A

ny and every leader inevitably has the challenge of dealing with difficult people and conversations, and the best know how to effectively manage these situations with adept skill and wisdom.
Whether an employee, a parent or student, a neighbor, or a stranger, being prepared to deal with difficult people with strategies that work provides a big advantage—including a little less stress and a lot less damage control. During this webinar, we will provide practical solutions that will help you to respond rather than react in difficult circumstances, and will help participants find a path to resolution. You will learn how to effectively communicate, even when that requires navigating tension and disagreement. Those who can manage these inevitable situations with wisdom and purpose have a huge advantage.
---

The ability of a school to succeed is directly proportional to the willingness of the school board to commit to the best practices of governance.
A board with proper understanding of its roles and responsibilities will set the foundation for all school policy, programs, and performance. This workshop discusses the School Growth's Four Stages of Board Development, assessment of board quality, and the board's role in strategic planning and execution.

---
For Administrators Only: We're giving you the tools to Build Faculty Engagement

Student growth and achievement directly correlates to the level of talented, engaged educators on your faculty. Those are the teachers who willingly invest in their students and go beyond the call of duty to help them succeed. They also develop higher trust with peers and require less management. If you can create a great culture that enables faculty to thrive, you will be able to provide a great school for your students to learn.

---

Let's Make Your Next Board Retreat the Best Ever!

Your next board retreat will be the best investment the board and administration can make to advance your mission and achieve greater success. At the retreat you'll have quality time to consider strategic planning , board culture, organizational goals (enrollment, fundraising, etc.) Training will also be incorporated into the retreat, satisfying accreditation requirements for board professional development.

---

Take the next step in becoming a master communicator - START NOW!

The Laws of the Grapevine

Your communication skills have a direct impact on the success of you and your school. It impacts faculty culture, enrollment, fundraising, board relationships, and so much more. Just like every other school, you have a grapevine ecosystem throughout your community that can be an asset or a liability--the difference is really up to you.

---

Top 10 Marketing Strategies to Grow Your School

This School Growth webinar series provides an action-oriented guide for making the school year remarkably effective to increase engagement and strengthen your marketing efforts.

---

Active participation by Faculty and Parents in the enrollment management process is a key advantage for the most successful schools.

They know how to equip, mobilize, and motivate their constituents to work with the enrollment office to collaboratively achieve the financial goals. January through April is the critical period for determining retention and new student yields. When your key influencers across the campus are well-trained and understand how important their relationship building activities are to the success of the school, the retention of current families will increase substantially and the yield of applicants to enrollees will dramatically improve.

Remember that word-of-mouth marketing is your best lead-generation tool. Most families who visit your campus for the first time heard about the school from a friend, family member or someone else in the community. Energize this tool by making families feel valued and appreciated as part of the "family." Help them develop a sense of pride and confidence in the leadership and decision-making. Strive to "mobilize your masses" so that everyone contributes to recruiting families and donors, sharing the workload and generating momentum.

---

Enrollment is the life-blood of your school, but what changes can you make now to produce better results?

The most successful schools use a disciplined process for student recruiting and enrollment management. We'll share with you the admission best practices that have been collected from research with thousands of schools around the world. Growing enrollment requires the full commitment of every school employee, and you're more likely to achieve your goals when you expertly engage your stakeholders in a professionally designed admission program.

---