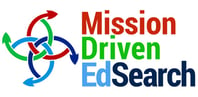 Research indicates that within the next few years 68% of sitting heads will either retire or move to another school. This high level of change may be attributed to baby boomers delaying retirement as a result of the financial recession of 2008, and it is also triggered by school board quality issues.
Does your school have a well-defined leadership succession plan?
Proactive school boards have a plan defined to transition to a new leadership should the need arise. A wise board understands that there are specific phases in a successful leadership transition, and that using a Mission-Driven Search is the best way to protect the mission and the school. The phases of a transition include:
Communication to stakeholders,

Preparing the board, faculty, families and donors for a change in leadership,

Conducting a search for the next head of school,

Choosing the next leader,

Communication to stakeholders of the choice,

Welcoming the new school leader,

Paving the way for the new leader to be successful in his/her role.
In light of the significant and expensive risks of making a poor hire for the chief administrator, consider whether it is wise for the board to handle a leadership transition without the guidance and expertise from outside council. Research clearly demonstrates that the cost is extraordinarily high when a mismatched hire is made.
If your school needed to be rewired, you'd call an electrician. An expert who is licensed and has experience with that dangerous work. School boards are too often tempted, however, to go the DIY route when faced with a transition in leadership. Whether to save money or to rely on the expertise already available on the board, they take the role and responsibility upon themselves.
We can certainly agree that you never want your board to become expert at hiring a head—that level of frequency is no good for anyone.
To overcome the obstacles to growth and reduce the risks, add succession planning to the agenda of your next board meeting or board retreat. It will take some time to consider the options and to document your plan--but the peace of mind and preparation will be worth it!
At School Growth we offer the Mission Driven EdSearch, which delivers coaching for the board search committee and may also include outsourcing of this complex process to our experienced team. Please take a look at http://www.schoolgrowth.com/search to find out more about how to conduct a search that will sustain the mission and sustainability of your school.