If you're tired of the excuses...
If you're excited about finding a path forward...
If you're ready to love teachers and students more ...
Then it's time to get Radically Against Dysfunction!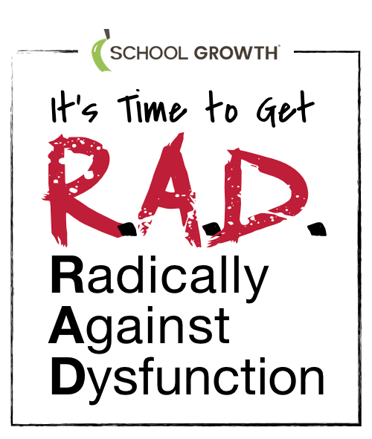 Next:
Jan. 23, 2020 @ Woodward in the Chapel Activity Room (Atlanta, GA) Register Now

Upcoming Locations:
Feb. 4, 2020 @ Stratford Academy (Macon, GA) Register Now
Feb. 12, 2020 @ Savannah Christian Prep School (Savannah, GA) Register Now
What:
Growth Planning 101 online Training Course
Instructor:
Scott Barron & Tammy Barron
Your teachers deserve this!
Your student deserve this!


We're going to give you the techniques we've developed over the last decade that have enabled thousands of schools to overcome the dysfunctional attitudes and habits that stunted their growth for years. Leading a school is hard enough without the frustrating cycles of conflict and confusion.

We're also going to share with you three professional development opportunities that will accelerate your exit strategy from the dysfunctional zone.



More Teachers are leaving the profession than ever before due to dysfunctional school leadership among boards and administration
You CAN create an environment in which highly talented educators can thrive, but it takes a relentless focus and radical commitment. Culture starts at the top, and we've devoted our lives to helping you build a remarkable team of people and then love them like they are!

The average tenure of heads/superintendents has decreased over 30% since 2007 because of changing demands and competitive pressures.
A new set of tools is required to succeed in today's education market space. If you're ready to expand your toolbox with proven, data-driven methods that really work, then please don't miss out on this special opportunity.
This program will only be available LIVE.
It will NOT be shared as a recorded video.

If you are serious about making 2020 a remarkable year of growth and success for your school, then enroll in this free course today to eliminate the dysfunction and rediscover the joy of learning and leadership.