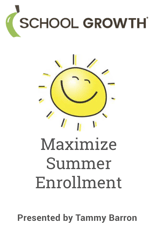 Tammy Barron hosted a webinar series for enrollment directors, school heads, superintendents, and other administrators to share strategies to maximize enrollment over the summer months. As you strive to meet your growth goals, know that you are not alone.
Each session focuses on high impact techniques that will help you overcome the obstacles and seize the opportunities to maximize enrollment. Below is a description of each video session.
_________

Part 1: Fundamentals to Maximize Summer Enrollment
Think of enrollment as the temperature of the school, measuring the quality of the educational experience, the leadership's capacity to create consistent value, and the ability to communicate it effectively to the target market of students.

Board and faculty perceptions about the complexities of enrollment management are too simplistic. So many factors can impact the ability to grow or sustain a strong student population
Part 2: Onboarding of New Families & Surveys to Learn from their Experience
New Family Onboarding - Successfully onboarding new families to include details about the welcome packet and the hand-off from admissions to the divisions etc.
Parent Ambassadors - Using your parent ambassadors to lighten the onboarding load - this will include a Parent Ambassador template and specific Ambassador summer roles and responsibilities
New Family Surveys - Your new families are your best source to understand your position in the market. They're the last people who "bought" your school and "shopped" the schools with whom you compete. They have valuable information to share, and we're going to give you questions to ask them in order to gain the maximum benefit from their experience.
Part 3: Building a School-Wide Engagement Plan
Success favors the prepared, especially when it comes to building engagement with faculty and families. In this webinar Tammy will show you how to plan your time and messages to strengthen relationships and build momentum throughout the year.
Unique Story - How do you update your brand narrative and communicate it in a compelling way?
Faculty Engagement - When & how do you engage faculty & administration to achieve your goals?
Word-of-Mouth Marketing - What is the best way to create energy and enthusiasm among your parents?
Board Engagement - What does your board need & want to hear from you? How can you engage them?
Part 4:

Analyzing Year End Results with Accurate Data and Trends
Enrollment Data is your gold. It will help you learn from last year's cycle to improve forecasting and performance for the upcoming season.
In the fourth and final session of our Maximize Summer Enrollment webinar series, I'm going to share specific steps you can take to collect the most valuable data, learn from your results, and make adjustments in order to learn and achieve greater success next year.
New Series Coming Soon: Setting the Enrollment Calendar to Grow Next Year
Better results--less stress. That's what happens when you plan your Enrollment Calendar to minimize last minute tasks. This session will show you how to maximize many of the activities you already use to more effectively deliver results.
SPECIAL OFFER
For a limited time, you can access all 4 of these Exclusive Webinars to Maximize Enrollment for only $99. There are no strings attached and no additional fees.
(Get access to the

complete recorded video series to watch at your leisure.

)
"It is amazing to have access to a monthly webinar that offers specific and doable ideas in the area of admissions and enrollment management. I feel like I am finally hearing workable ideas from someone who speaks my language!" --Danette T., Admissions & Marketing Director
"Your presentation was both inspirational and hopeful... which is what I needed at this time of year with a few empty spaces to fill and 'shut down' summer rapidly approaching." --Michele D., Enrollment Directer
"Loved the 'Energize the Base' tasks! I'm putting that into motion now!" --Claire, Enrollment Director