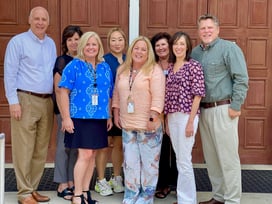 The enrollment season for next year has begun, and a healthy school culture is the foundation on which a Growth Plan is rooted.
The best culture is created by design, with a unified team that has mastered the art and science of listening. Consider these questions to assess the listening skills and habits of your team.
The environment in which we now find ourselves as educators is a convergence of 21st-century factors, and they aren't going away:
Remarkably rapid ways for faculty, parents, students, and others in our communities to interact and communicate;

Wider variations in service expectations and student needs;

Declining levels of common sense and mutual respect;

Infectious disease management and response;

Increasing need for stable relationships and wise guidance.
These conditions require a dynamic, constantly adapting approach to education leadership that is adept at asking great questions, actually listening to the answers, and making adjustments.
That can sound complicated, but it's just part of our calling as educators to intelligently learn and adapt to the needs of our students and communities.
We have a genuine curiosity because we care. How can we improve our people, practices, and programming to more deeply engage the faculty and families we seek to serve?
Research on leadership dynamics and human interactions demonstrate that our effectiveness as an administrative team can be accurately evaluated with these questions:
Does each person on the team talk and listen about the same amount of time, concisely sharing their own thoughts and perspectives?

Do team members maintain high levels of eye contact?

Are gratitude and appreciation expressed freely and frequently among the team?

Do team members communicate their engagement with energetic conversations and gestures?

Do team members communicate directly with one another, not just with/through the leader?

Do members of the team engage in "side" conversations, demonstrating genuine interest in and supporting each other?

Do team members periodically go on a learning journey to explore and learn from other people and organizations in order to bring that information back to the team?

Is there a high degree of trust among the members of the team?
Education leadership is hard, so embrace it!
1. Focus on cultivating a culture that values relationships.
2. Reward critical thinkers and problem solvers.
3. Refuse to tolerate dysfunctional behaviors.
That's how we mitigate the increasing levels of stress and conflict in order to say focused on the mission.
We Teach, therefore we Learn!
Growing as a learning organization means that we seek to more deeply understand and engage with our people in order to continue our pursuit of authentic and sustainable excellence.