Today we're guiding school business officers through a self-assessment of organizational health. Using the School Growth Optimize Performance Model, this workshop at the PAISBOA annual meeting in Philadelphia will provide insight on the factors that may be limiting effectiveness and quality.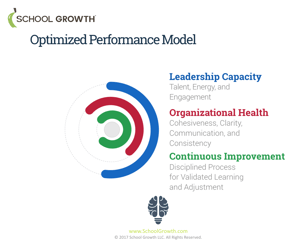 When you ask the right questions, you can begin to achieve the right results. This learning program is designed to create a dialogue among the participating school leaders, challenging assumptions and getting to the core of what is limiting their growth.

In our work with thousands of schools and other organizations over the last decade, the data consistently shows that the foundation for success is built on three critical factors: Leadership Capacity, Organizational Health, and Continuous Improvement.

We adapted the Organizational Health model proposed in the book, The Advantage, customizing it for the language and context of school leadership. The Four Disciplines are: Cohesiveness, Clarity, Communication, and Consistency.
We've expanded on the discipline of Communication, for example, because of the impact on team performance. Communication cascading is too rudimentary to support the complexities of school leadership, so we incorporated the habits of Sequence, Frequence, and Flow for greater effectiveness.

School improvement and growth is achievable when the focus is on the root causes rather than on the symptoms. A leadership retreat is a great way for the team to step out of the rigors of day-to-day responsibilities and honestly assess how healthy the organization is and what steps can be taken to heal and grow.