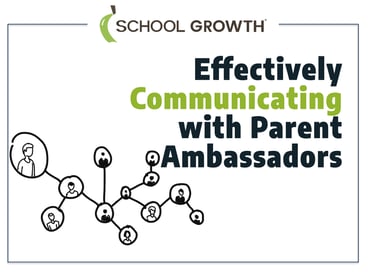 Parent Ambassadors are a core part of our enrollment growth strategy, but how do we maintain healthy relationships and maximize engagement with them?
Effectively Communications with parent ambassadors is the key, and in this conversation with Brennan Stark of PeerPal, we identify four key areas to consider.
Expectations
Clearly setting expectations sets the tone for our ambassador network. If you don't specify what you want them to do, then it's hard for them to do it. Repetition and reinforcement will help ensure consistency because our ambassadors represent the brand of the school in our community.
For example, one expectation is that parent ambassadors will focus on talking to and building relationships with prospective families at enrollment events rather than spending time with each other. These events have an important purpose--we can all catch up later.
Events
Wisely sequencing your emails and other messages about enrollment events has massive benefits. Using a disciplined protocol for communication will help your ambassadors feel like VIPs.
For example, before important news is distributed to all families, be sure that your ambassadors receive and understand it first. That simple step will help them feel valued and equip them to be your advocates out in the parking lot, on social media, and elsewhere.
Feedback
Remember that communication with parent ambassadors also includes conversations where we listen to them and learn from them. That requires us to ask highly effective questions. Some questions that will prompt healthy conversations include:
- What questions are prospective parents asking about the school?
- What is it like being an ambassador for our school? What do you enjoy most? What is most frustrating?
- Do we have reasonable expectations for our ambassadors? Are we providing the tools and resources that you need?
- What are you not telling me about the school or our ambassador program?
Results
Consider how to give status updates to parent ambassadors, confirming their contribution to our success. They want to know that they are making a difference. Affirmation goes a long way, especially celebrating progress.
We get to invest in them so that their energy and engagement becomes contagious.