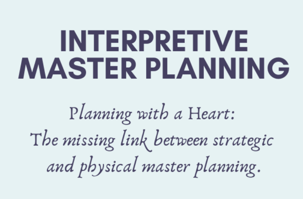 Interpretive Master Planning (IMP) is uncommon among educators, but it offers a transformative approach to school design that aligns closely with strategic planning and campus master planning.
In light of the leadership's desire to create a beautiful culture and campus, this approach to designing physical spaces and experiences offers a significant advantage for competitive differentiation and life-changing impact.
Learn more about the process and benefits of IMP through this infographic.

Campus Culture Alignment Type


We've created an assessment to help schools determine how the campus design contributes to their culture and curriculum.
- How well does our overall campus design support the level of community and engagement promised to faculty and families?
- Is curriculum innovation enabled or constrained by the layout and structure?
- Do your faculty and families utilize the facilities in a manner that is conducive to joyful learning?

This assessment is used to determine the Campus Culture Alignment Type:
Culture-Positive: Enables and encourages strategy-aligned experiences

Culture-Neutral: Neither advances nor limits the culture and curriculum

Culture-Negative: Limits the effectiveness of the faculty and strategies


CLICK HERE

to learn more about the Campus Culture Alignment Type Assessment and Interpretive Master Planning.