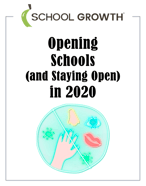 We're looking for every option available to open schools and keep them open for everyone's benefit, and we recently learned about a new COVID/infectious disease management solution for schools offered through Educator-Resources that is actually very interesting.
Following up on this lead, I asked them to send me more information, and they shared this explanation video along with some background on the program. They have a growing number of schools enrolling because of the realization of how challenging infectious disease management is for the administration on a daily basis.

This could be a very effective and efficient way to manage the day-to-day tracking of employees and students that doesn't require excessive manpower.
So, I scheduled an online interview with John Drye, Chief Risk Strategist and Legal Counsel for Educator-Resources, to get more on their story. Check it out below:


More information is available at imhealthytodayschools.com.