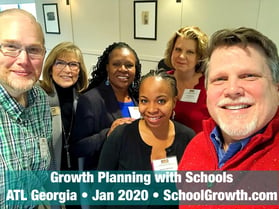 It kind of sounds like a joke--school leaders from Catholic schools, Christian schools, and independent nonreligious schools walked into a bar.... Actually it was a training room at Woodward Academy in Atlanta where we were Getting R.A.D. (Radically Against Dysfunction)
That's the real joy of our work, supporting the growth goals of educators who have the courage to make hard decisions and develop the disciplines of effective school leadership.
How will you grow this week? This year? The School Growth team is going to be quite busy growing schools and the people who have the courage to lead them. We're excited to celebrate some game-changers who are finding new ways to compete for the opportunity to inspire hearts and minds.
What is an Enrollment Growth Plan?
This week we're teaching our "What is an Enrollment Growth Plan?" course ONLINE with nearly 200 schools registered, and then LIVE in Nashville, TN. The online course includes schools from 30 states and 21 countries. We're going to step through the 7 Elements of an Enrollment Growth Plan, and the live workshop in Nashville will include hands-on exercises to complete the planning process for immediate impact.
Leadership Retreat
This Saturday we're facilitating a retreat for a school that is in the midst of a leadership transition. The board and administration are seeking to sustain enrollment momentum and faculty engagement through a season in which uncertainty and doubt can easily dominate.
Sometimes it's hard to find the time, but the benefits to organizational health and relationships are well worth the investment. A Leadership Retreat is an effective way to pause, reflect, build relationships, and start building a growth plan.
Bruce Rockstroh, Education Pioneer, is Retiring from Braination
Bruce Rockstroh has served as the Superintendent of Braination, a unique school management organization in San Antonio, TX. He has done something extraordinary as an education innovator, giving hope to students that many have abandoned. The mission of Braination is distinct and compelling: Increase the capacity for human greatness.
We have enjoyed the privilege of collaborating with Bruce, Jennifer Rower, Ken Whitt, and the Braination team to grow their network of influence. They operate charter schools for residential students (e.g., juvenile delinquency, drug treatment, immigration, etc.), along with Anne Frank Inspire Academy (a cutting-edge public charter school) and the new International Academy of San Antonio (a private school initiative).
We've guided their team through the creation of a Strategic Growth Plan while sustaining the organization through the leadership transition decisions. Next we're developing a growth fund for Braination to expand their residential schools beyond Texas in order to give hope to more students in these types of programs.
Bruce is retiring in the summer of 2020 and we want to celebrate the entrepreneurial spirit that he has brought to schools and students throughout Texas. Many people talk about transforming education, but Bruce has delivered with a multifaceted approach to reimagine and transform global learning.
The State of Education: Ignorance isn't an option
Last week I had the privilege of sharing a unique message to a Rotary Club chapter in Johns Creek, GA. The title was, "The State of Education: Ignorance isn't an option," and goal was to demonstrate that PK-12 schools are the most complex organizations in our economy.
This is an important perspective for business leaders and policy makers to understand as they evaluate school performance and engage in the dialogue regarding school improvement. Progress is more likely when there is mutual respect and broader knowledge about the realistic issues and challenges of school leadership.
One of the participants was a life-long educator who committed 27 years of her life to inspiring young minds. Afterwards she sent an email saying: "As a retired teacher, I really enjoyed your presentation and wish more principals from our community could hear your message. Very good information."
We are seeking additional opportunities to share this presentation with business leaders at association events, service organizations, and chamber-of-commerce meetings.
AAAIS Principals: Accelerating Faculty Quality and Engagement
Principals in the Atlanta Area Association of Independent Schools (AAAIS) are meeting this week to explore techniques to accelerate faculty quality and engagement. We'll step through a few case studies where courageous educators have significantly advanced their Talent Quotient, and consider critical decisions that could make a big difference as preparations are being made for the upcoming school year.