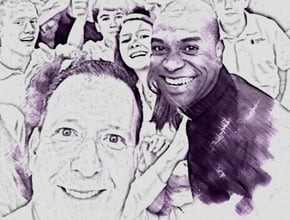 Using the School Growth system for growing schools, Daniel Breen has successfully led Sacred Heart Cathedral School (Knoxville, TN) through a season of transformation. Under his guidance they achieved 94% re-enrollment, exceeded their new enrollment goal with a waiting pool, surpassed their fundraising targets, and student academic results were the highest in years.
Below is a video and notes from my recent conversation with Dan.
Sacred Heart Cathedral School Preschool serves over 630 students, making it the largest school in the Diocese of Knoxville. It has been recognized as a Blue Ribbon School and has established significant influence in the Knoxville community.
To achieve this remarkable growth, Dan has focused on the top factor that influences student growth and school growth: Building a team of talented, energized, engaged educators. Increasing the capacity and efficacy of faculty has been his top priority, helping them develop the necessary disciplines and mindset to grow.


Q: When did your School Growth journey begin?
After some years of struggle, we needed to get the school on track for growth by leveraging School Growth's experience in professional development and personal growth.
This goes back 3 years ago when you were doing an Enrollment Workshop in Nashville, and I attended with my new admissions director at the time. I wanted to start a new culture within the school and your reputation preceded you, so we went to Nashville to learn from you and Tammy. We wanted to learn about your approach to Enrollment Management because both of you have such great expertise.
That day we started talking about how to engage your services to help us grow. We set up Leadership Coaching for me and for Beth, our Admissions Director. We also attended follow up workshops on strategic planning and building engagement.
Q. What have you achieved as a result of this journey?
I've personally benefitted a lot just from working with you. The first step was to chart a course—where are we, what are we doing, what do we stand for, and how do we create a plan. Clarity and vision is really important and that's where you've helped me. The hard part, though, is execution and you've really helped with every stage.
The impact on the school can be seen in the data—the numbers speak for themselves.
- In that first year, we were just getting the lay of the land and you're not usually going to see huge change right away when you have a new Principal and a new Admissions Director at the same time, but we were laying the groundwork for success.
- Two consecutive years of 94% retention. We've implemented your enrollment management strategy of building 3 deep relationships. We use the "Stop Light Approach," where we meet quarterly with grade level teams, assessing the quality of relationships with each and every family, then creating a follow up plan to ensure those 3 deep relationships are being developed. We live in a world that's busy and fast paced—for school leaders especially—so using this discipline around connecting intimately with families really made a difference.
I have some quotes from you, Scott, up on a cork board in my office. The one I reference the most is:
"Disciplined Leadership with a Relentless Focus on Talent!"
- We increased enrollment 10%, which is very significant after a few years of decline. We are absolutely seeing the benefits with the partnership of School Growth.
- Last year we had a record year in fundraising. "
- We increased our Talent Quotient. The quality of the teacher we attract and retain has improved through our partnership with you and their engagement has absolutely improved. It's not a surprise that our test scores have been the best in 20 years because we have recruited and brought in outstanding excellent staff, and part of what recruits them is that they know their peers are engaged and they want to be part of that.
- When I came into Sacred Heart, the school had accumulated significant debt and had to dig out of that while trying to keep tuition down--that's tough! For the first time in 10 years, we have a well balanced budget and a right sized institution and that disciplined leadership you taught us has a lot to do with that.
Q: Would you recommend School Growth Leadership Coaching?
Absolutely, no question I recommend School Growth coaching—the results do speak for themselves. We all go to professional development sessions and hear lots of ideas but the reason why we chose School Growth was because you value relationships. You get school leaders because you have been a school leader. It's not theory for you—it's practice.
We started this journey with you two years ago and I was struggling with how to build leadership capacity within the school. Using your system we developed our "rocks," (strategic goals) and particular data points combined with a regular meeting schedule to hold each other accountable. You've helped us implement the overall approach of engagement, discipline, and vision that goes along with the plan and it's made a big difference!
Are you ready to Start Your Growth Plan?