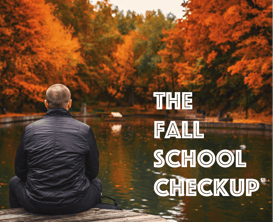 Fall is such a beautiful time of the year, but not only because of the cooler air and changing colors. It's also when powerful learning can happen to support your Strategic Growth Plan.
What questions should you be asking now in order to grow? Below are the key areas in which your leadership team can assess relationships and performance in order to make needed improvements through a Fall CheckUp.
Enrollment Audit

An enrollment audit is a recommended best practice because it assesses the quality of admissions tours, key points of the value proposition, communications messages and methods, and other key aspects for recruiting new families. The resulting analysis can help build credibility and confidence among the administration, school board, faculty, and constituents. It also provides guidance on data trends to improve the accuracy of enrollment forecasts and strategies.
New Family Survey
New families can provide extremely valuable growth data. They have recent experience evaluating your school against your competitors in the community. You can learn how to improve the admissions and onboarding experience, which schools are your biggest competition, and what they saw at other schools that they would really like implemented on your campus. In light of your commitment to grow as a learning organization, new families can provide invaluable data to upgrade your Strategic Growth Plan.
Talent Audit
A talent audit will help you accurately assess the contribution all school employees make to the mission, culture, and goals. The process is based on best practice observations across different genres of education and school sizes, and it can help your leadership Identify the trends that impact talent recruiting and retention, identify talent gaps, mitigate talent risks, and decrease costs through a more focused talent growth plan.
Organizational Health Assessment
Organizationally healthy schools consistently outgrow their competitors. Understanding and developing the contributing disciplines will help you overcome the dysfunctional behaviors that limit school growth. The feedback data and dialogue from an organizational health assessment is critical for creating a culture in which faculty and students can thrive.
Fall is an important season for your growth plans. The wise leadership team collects valuable data, listens carefully, and learns to make improvements faster and more effectively. If you would like to learn more about how to complete a Fall CheckUp for your school, email Tammy@SchoolGrowth.com.