I
nspiration can come at the most unexpected times.
In September of 2020 we hosted an online symposium for school administrators on sustaining a healthy school culture in the early stages of the pandemic. The mood among these leaders wasn't good

―

actually it was miserable.
They were tired, tired of it, and some were already making other career plans as a result of the unending conflict and stress.
That moment was the catalyst for the Weekly Encouragement for Educators email and the recently published book, "Love'em and Lead'em: Encouragement and Inspiration for Educators." Genuine care and relationships among colleagues is crucial in this work, and we have a new tool to get there.
Below are three ways you can more effectively Love and Lead educators.
Our primary responsibility as education leaders is to provide the optimal conditions for learning and growth. If we can cultivate a culture of cohesive clarity, then greater consistency and engagement can be achieved. That's where love and leadership really flourish.
The overwhelming appreciation we continuously receive from educators around the world is the reason we continue to share the weekly encouragement emails. We published Love'em and Lead'em as a compilation of these messages for educators that can also serve as a stimulus for valuable professional development conversations to address questions such as:
How do we maintain our energy and focus, ensuring we're ready everyday?

What is the impact of a negative attitude on faculty culture?

How can we remind each other to use our words wisely because of our influence and impact?
Where is the

Love

?
What's wrong with the world, mama?
People livin' like they ain't got no mamas
I think the whole world's addicted to the drama
Only attracted to things that'll bring you trauma
(Song: The Blackeyed Peas, Songwriters: Justin Timberlake, et al)


According to one study, people who feel like they work in a loving, caring environment reported higher levels of satisfaction, greater teamwork, and better attendance at work.
The habits and skills that we utilized to successfully deliver previous results become less sufficient as leadership responsibilities increase and the scope of the relational ecosystem expands. We have to adapt with more sophisticated communication and coordination.
Three ways you can elevate your love and leadership is to Be Present, Be Prepared, and Be Persistent.
Be present

in the moment, actively listening
To be Present is to be fully conscious and aware in the moment, free from the distraction of internal or external noise. When we communicate a sense of stability and peace, it will become contagious.
It's so easy for our minds to wander, so we have to practice maintaining this state of mind for longer periods of time. In this focused mental state, we are more likely to utilize the full range of our senses to genuinely experience life in our school with less bias and conflicting expectations.
Presence is more likely to happen when we're intentionally generous with our time. We actually have to plan to be available, plan to allow time for conversation, plan to actively listen. The frequence and quality of conversations contributes vitally to our presence and relationships.
Be prepared

, anticipating needs and opportunities
One thing we know for sure--in general, educators aren't fond of surprises. Especially when it comes to the schedule changes and leadership decisions. This requires us to be prepared for the upcoming week, month, and year, while being equally ready to responsively handle present issues and responsibilities.
The unrelenting pace of school life and the daily human negotiations make it even more difficult for education leaders to be properly prepared.
Think it through, tapping into your talents and the strengths of others around you to develop a more comprehensive and accurate perspective. Consider the various scenarios that may occur and get ready.
Be persistent

, delivering on promises by overcoming the barriers
Education leadership is hard work, but we know that leadership and growth happen only through courageous vision and perseverance through hard times and hard things. We do not cower to the disparagement and dysfunction that relentlessly seek to discourage us.
We understand that difficulties with students, parents, and colleagues are inevitable, and we persist anyway because of the life-changing impact of our influence. Take that next step anyway. And the next. And the next. And the next.
As our collective commitment to the mission and to each other grows, so does our impact and success. The roots of our relationships go deeper, giving us a powerful advantage in the battle for the hearts and minds of our people.

By sustaining our attitude and making steady progress, we will prevail in our goals and commitments to those we humbly serve―with joy!
Where's

the Love?
It's right here in our school because we've
answered the call to be an Educator!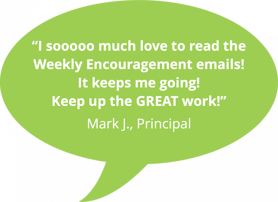 CLICK HERE to purchase your copy of Love'em and Lead'em! Proceeds from the book support the work of Educators Fellowship.


CLICK HERE to sign up for the Weekly Encouragement for Educators email