Mobilizing the Masses to Build School-Wide Engagement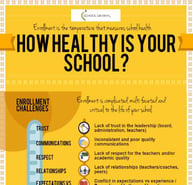 Download this Free Infographic
Active participation by Faculty and Parents in the enrollment management process is a key advantage for the most successful schools. They know how to equip, mobilize, and motivate their constituents to work with the enrollment office to collaboratively achieve the financial goals. January through April is the critical period for determining retention and new student yields. When your key influencers across the campus are well-trained and understand how important their relationship building activities are to the success of the school, the retention of current families will increase substantially and the yield of applicants to enrollees will dramatically improve.
Parent engagement greatly contributes to your school's success. Retention of families and donor generosity will be at its highest when you intentionally foster at least three deep relationships with each family. Having multiple connections creates stronger roots that are more difficult to sever.
Remember that word-of-mouth marketing is your best lead-generation tool. Most families who visit your campus for the first time heard about the school from a friend, family member or someone else in the community. Energize this tool by making families feel valued and appreciated as part of the "family." Help them develop a sense of pride and confidence in the leadership and decision-making. Strive to "mobilize your masses" so that everyone contributes to recruiting families and donors, sharing the workload and generating momentum.
One thing we know for sure: Building engagement with faculty, current families, and prospective families is the most effective way to grow and build energy throughout your school community.
In order to provide the ultimate experience, all sessions are available to watch at your leisure and you'll receive a wookbook along with helpful tools. After completing registration, participants will receive details of how to access the training videos and workbooks.
Session 1: How Healthy is Your School
Session 2: Building Engagement with Faculty
Session 3: Building Engagement with Current Families
Session 4: Building Engagement with Prospective Families